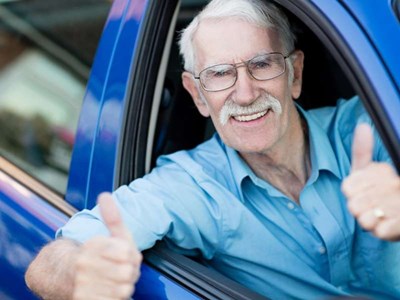 Are you are retired, on a disability, unemployed and receiving a Pension or unemployment benefits, and been frustrated in your attempts to buy a car? Have you been denied vehicle loans because of your credit condition, even though you have a steady, reliable income through your pension? You're not alone. Many auto-financiers only look at an applicant's credit score, without taking the time to look at their total financial situation. Luckily for you, Cars on Terms is here to help.

Flexible Terms for Pensioners

At our auto dealership, we understand that every person who comes through our doors is in a different financial situation and that not everyone with a less-than-perfect credit score is an unreliable individual. Our auto loan officers take the time to look at more than just your credit score.

What we've found is that there are a lot of people in Brisbane and elsewhere who have imperfect credit that are still in a good position to keep up with their car payments. We specialize in car loans for pensioners because we know that if you have a set income, which you can count on every fortnight, you can keep up with your car payments.

Other auto lenders may be ignoring you, but all you need is a loan officer who understands your situation. With our car loans for pensioners, we tailor your car payments to fit your budget. You don't need to have a very large income for us to be able to work out reasonable payment amounts for you. We know that if we can work out the right payment amount for your situation, that you'll be able to keep up with the payments comfortably, regardless of your existing credit score.

Of course, other lenders may not only want you to pay a higher interest rate or higher payments, but they may also want you to pay on their rigid schedule, which is the way most car financiers do business. We understand, however, that pension payment schedules can vary somewhat, but that that does not mean you will be an unreliable customer. So with our car loans for pensioners, we work with you to set up a payment schedule that fits in with the timing of your pension payments.


We Help Your Credit

At Cars on Terms, we don't mind customizing auto loan terms for you. In fact, we approve car loans for pensioners with faulty credit on generous terms all of the time. So whether you're in the market for a car, truck, van, wagon, or SUV, but you live on a pension or fixed income, and you don't have the world's best credit score, chances are we can find a way to help you as well. Car loans for pensioners are available at flexible rates, with flexible payment schedules, on our full line of quality vehicles.

If you need to improve your credit, however, we are a licensed credit reference provider under the National Credit Act. Because of that, if you are one of the many people with bad credit who take advantage of our car loans for pensioners who finishes repaying his or her loan, we'll be able to help you improve your odds of establishing credit elsewhere!

We here at Cars on Terms are here to help you get behind the wheel of the car you're looking for, at a price that you can afford, at a rate that is reasonable, on a schedule that is realistic for you. Our car loans for pensioners have helped many retired people, not only get the car that they are looking for, but also to improve their credit as well! So if you are a pensioner who needs an auto loan, come visit us today!
You might intersted to know about "Tips to secure a Bad Credit Car Loan."